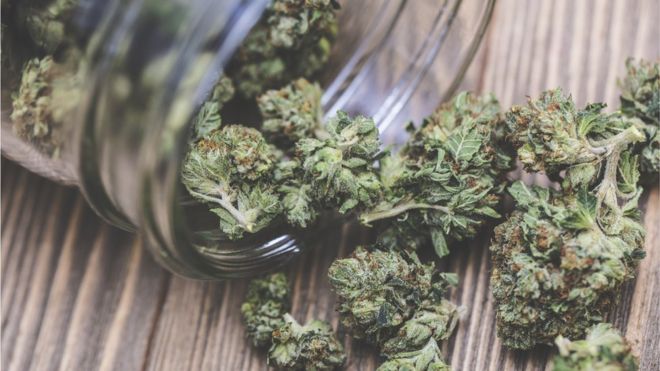 Coca-Cola is best known for its eponymous caffeine-based drink, but the firm now appears to be experimenting with a different drug: cannabis.
According to Canada's BNN Bloomberg, the drinks giant is in talks with local producer Aurora Cannabis about developing marijuana-infused beverages.
These would not aim to intoxicate consumers but to relieve pain.
The firm declined to comment but said it was watching the cannabis drinks market closely.
"Along with many others in the beverage industry, we are closely watching the growth of non-psychoactive cannabidiol as an ingredient in functional wellness beverages around the world," Coca-Cola said in a statement.
Corona beer firm pours $4bn into weed
Cannabidiol, a constituent of cannabis, can help ease inflammation, pain and cramping, but has no psychoactive effect.
It comes as Canada prepares to follow certain US states in legalising cannabis for recreational use, after years of permitting it for medicinal purposes.
It has given rise to a large pot growing industry and some high-profile partnerships.
Earlier this year, beer giant Molson Coors Brewing said it would make cannabis-infused drinks with Hydropothecary, while Corona-beer maker Constellation Brands invested $4bn more into pot firm Canopy Growth.
A partnership between Coke and Aurora would mark the first entry of a major manufacturer of non-alcoholic drinks into the market.
'Recovery drink'
Quoting unnamed sources, BNN Bloomberg said Coca-Cola was in "serious talks" with Aurora but no deal had been finalised.
"They're pretty advanced down the path" of doing a deal, one source was quoted as saying.
"It's going to be more of the 'recovery drink' category," the source added.
Aurora, in a separate statement, said it would not discuss business development initiatives until they were finalised, but added: "Aurora has expressed specific interest in the infused beverage space, and we intend to enter that market."
Coca-Cola's shares rose marginally in early trade on Monday.
There are nearly 30 countries pursuing a federally permissible medical cannabis programme
Corona beer owner Constellation Brands is set to pour some $4bn (£3.15bn) into Canada's top cannabis producer, Canopy Growth, in a deal marking the largest investment in the industry to date.
Last year, Constellation injected $200m into Canopy in a deal to produce a non-alcoholic cannabis-based beverage.
The alcohol firm wants to capitalise on the growing legalisation of the drug.
On news of the deal, Canopy's Toronto-listed stock surged 30%, while on Wall Street, Constellation's fell 6%.
The two firms said the investment would allow Canopy to expand its business reach "in the nearly 30 countries pursuing a federally permissible medical cannabis programme".
Canopy, which has the largest legal cannabis production footprint in the world, currently produces cannabis-based oils and soft gel caps, among other products.
With Constellation's latest injection of cash, Canopy plans to expand its suite of products to include edible bars, inhalers and pre-rolled items.
It also wants to develop cannabinoid-based medicines that provide a safer alternative to some mainstream treatments for pain, anxiety, sleeplessness and psoriasis.
"This [deal] marks the end of the warm-up in our sector… it's fully go-time," said Canopy's chief executive Bruce Linton on an investment call.
'Tremendous growth opportunity'
Constellation, which makes and markets beer, wine and spirits in the US, Canada, Mexico, New Zealand and Italy, noted that governments around the world had already signalled a significant change in attitudes towards cannabis and cannabis-based products.
"Over the past year, we've come to better understand the cannabis market, the tremendous growth opportunity it presents, and Canopy's market-leading capabilities in this space," said Rob Sands, chief executive of Constellation Brands.
In June, the Canadian government passed a bill which will effectively legalise the recreational cannabis market in the country. The bill is set to be rolled out in October.
Constellation's latest investment in Canopy takes its ownership in the firm to 38%.
The deal is subject to regulatory approval and is expected to be closed no earlier than the end of October.