Kilishi Meat Investigation Video is it killing you – Nigerian Beef Jerky Safe for Human Consumption ? Lady Asks in Shocking Video !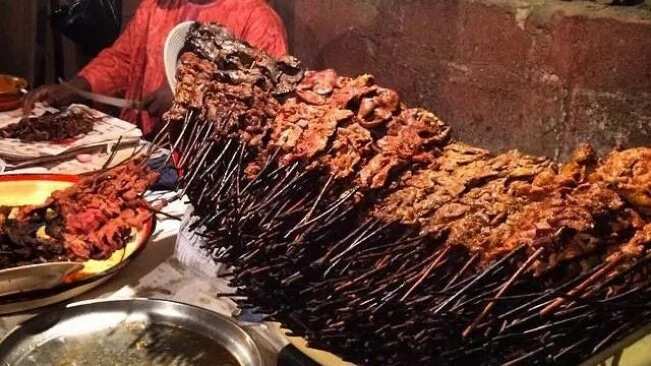 Beef dipped in sauce and roasted over open fire have been a tantalizing delicacy in Nigeria for a long time. Nigerians enjoy snacking on this small pieces of meat stringed on sticks while on the go.  As delicious as Suya and Kilishi are, the revelation we are about to make may make you lose interest in the two. If you are one of the people who make daily contribution to Suya or Kilishi sellers, then you had better get prepared for what is coming for you.
Apart from the government banning the production of the spiced meat Nigerians enjoy eating as snack, these information will prevent you from putting yourself into trouble for the love of meat. If you are a Nigerian who reside in your home country, then the chances of you knowing either of the two delicacies or both at once are high. If you are familiar with Suya, then you are just a step away from knowing Kilishi. Kilishi is the family member of Suya that had a longer time getting dried or smoked with heat. While Suya contains diced pieces of meat, the beef used for Kilishi is dried, flat seasoned beef that can be broken with hands.
Apart from the fact that both Suya and Kilishi are made from beef, they also seem to have the same seller. These delicious mouth-filling delights are mostly sold by 'Abokis' in the night. Kilishi is not sold with the regular vegetables like onions, cucumbers, tomatoes and ground peppper in Suya.
All the spices must have been prepared into a mixture which is rubbed on the beef before the drying and cooking begins. Find below some of the mind boggling reasons why you may never want to eat Suya and Kilishi again:
1. High risk of having cancer Perhaps you do not know that the eating of Suya and Kilishi may cost you your life as a result of the processes through which they are made.
Meet roasted over open fire often get charred; while roasting them, some chemicals get released. Precisely, the polycyclic aromatic hydrocarbons are generated when food is being processed over charcoal, wood and gas. Consuming food charred and filled with chemicals will put you at risk of having cancer. In pregnancy, the developing fetus may be predisposed to asthma while having low IQ.
2. Unhealthy environment We would be mild by justifying your patronage of Suya sellers; hunger brings the worst out of people and may prevent you from focusing on your environment in a bid to alienate the gnarling pain you may be feeling. However, the next time you get so hungry, make sure you grab something healthy to eat in order to live long.
Suya and Kilishi are often sold in dirty environments that should make you question the cleanliness of the seller and the processes the roasted meat have gone through earlier. Do not shut your eyes to these small things as you may end up spending more in the hospital as a result of your negligence.